In 2020 vieren we 75 jaar bevrijding. In datzelfde jaar zijn in Den Haag de Invictus Games en in Tokio de Paralympische Spelen, allebei sportevenementen voor mensen met een handicap. Het lijkt toeval dat Tweede Wereldoorlog en gehandicaptensport zo bij elkaar komen, maar niets is minder waar. Het begin van de gehandicaptensport heeft namelijk alles te maken met de oorlog. Daarom organiseert Rethinking Disability op maandagmiddag 25 november 2019 een seminar over de historische relatie tussen sport, handicap en oorlog.
Het seminar begint met een bijdrage van sporthistoricus Jurryt van Vooren. Hij schrijft een boek over sport in de Tweede Wereldoorlog en zal vertellen over het verzorgingstehuis Kareol. Dat werd in juli 1940 in Aerdenhout geopend voor gewonde Nederlandse militairen met een hoofdrol voor sport in de dagelijkse medische verzorging. Dat was nog nooit eerder gebeurd in ons land. Honderden soldaten met een handicap werden daar succesvol verzorgd.
Vervolgens wordt met de deelnemers een inventarisatie gemaakt van gebeurtenissen en personen die onder het thema sport op de website DisPLACE een plek moeten krijgen. Als je wilt komen of een bijdrage aan DisPLACE wilt leveren, stuur dan een bericht naar info@displace.nl.
Het seminar duurt van 15 tot 17u en vindt plaats in zaal A002 van het KOG gebouw, Steenschuur 25 te Leiden.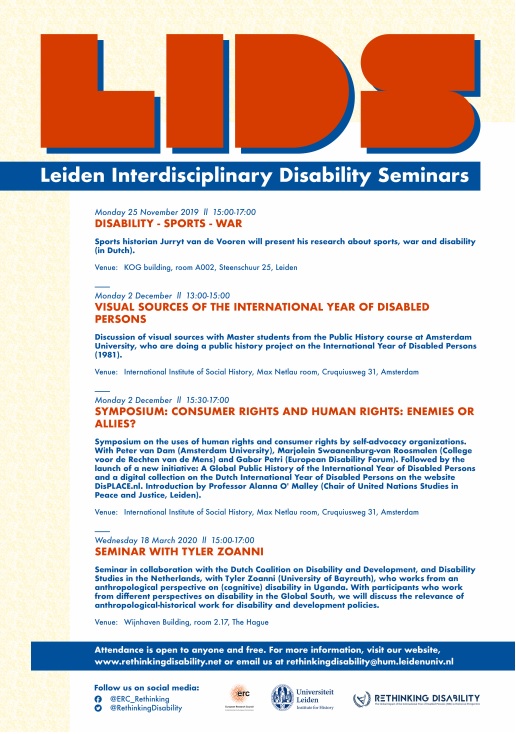 We hope to give a follow-up to this seminar during the Invictus Games, which will take place in the The Hague next year. Although this multi-sport event was only initiated in 2014, the organization of sport events for disabled veterans has of course a much longer history. Therefore the Rethinking Disability website is available for public history blogs about different aspects of sport, disability and war – also covering more contemporary issues. If you are interested in contributing to the blog series, please contact rethinkingdisability@hum.leidenuniv.nl.