The hallways of the Leuven provincial house are more lively than usual after dark. Scattered groups of people, most of them rather youthful, only a handful of them visibly disabled, are trying to find their way to the auditorium where one of the screenings of the 2017 edition of the Leuven Disability Film Festival, with the theme Bodies and Minds, will soon begin. Among them is Pieter Verstraete, professor of history of education at the research unit education, culture and society (KU Leuven, Belgium), who has been co-organizing the Leuven Disability Film Festival since 2011. I talk to him about the origins of the Leuven festival:
The idea to do this came from Patrick Devlieger and Jori Decoster (both researchers at KU Leuven), and myself. All of us were intrigued by movies and were working on disability studies and/or disability history. As we were aware of international examples of film festivals – Superfest being the most famous one, of course- we thought it a good idea to have such a festival in Flanders. At the time there were other film festivals being organized in Leuven that focused on minority groups, such as an LGBT-festival, but nothing much was happening on people with disabilities. Although there are other examples of disability film festivals in Belgium, in Brussels and Walloon to be more precise, for example The Extraordinary Film Festival (https://www.eopfestival.be/).
And the Leuven Disability Film Festival was an instant success?
Well, not exactly. We experienced a steep organizational growth curve! For that very first edition we had selected 10 movies. During the second semester of the academic year we projected one movie every week. Result: a huge failure. Often it was just us, the organizers, sitting alone in an auditorium. We realized that we needed to make some thorough organizational changes if wanted to continue with the festival. Most important of all we decided to contact different disability organisations and let them take care of choosing and contextualizing the 5 films on display, which are now shown in the course of one week.
After accumulating the experiences of organizing five editions, what is the current set-up of the Leuven Disability Film Festival?
The main idea is still to create a space where people with and without disabilities are able to meet, so we are not just engaging persons with disabilities themselves. In addition, we want to show movies that are able to trigger discussions about ongoing representations of persons with disabilities, give disability organisations a forum to make themselves (a bit more) known and make sure people can watch a good movie and have fun. When we show a film like this year's Yes We Fuck – an explicit documentary that addresses sexuality in people with functional diversity, exploring not only what sexuality can do for people with disabilities, but what functional diversity may contribute to human sexuality – you can really see that it gets people thinking, and that's what we are trying to realize.
We've had editions with up to 950 participants but on average the festival is visited by some 750-800 spectators. In the beginning it were mostly Leuven university students who were attending, now we see more and more outside visitors finding their way to the festival.
Still, the most challenging part of organizing a disability film festival is making sure it is inclusive. We are dealing with very divergent populations and can't attain universal inclusiveness for the entire festival, mainly because of financial limitations. To give you an example, there is a tension between making sure deaf people and international students can attend all movies. For the deaf we need to provide Dutch subtitles, for the international students we need English ones, and unfortunately we do not have the funding to simply provide both.
Tonight, the Leuven Disability festival is screening Margarita with a straw, with Dutch subtitles. An Indian coming-of age story that garnered acclaim in the national press for its straightforward depiction of Laila, a young woman with cerebral palsy navigating the relationship with her family, heartbreak, a cross-continental move to follow higher education in the States, and sexual desires for both men and women. A differently-abled, bisexual Hindi film heroine. Did you ever imagine you would see those words in the same sentence? In Margarita with a Straw, writer-director Shonali Bose and actor Kalki Koechlin give us a woman we have never seen in our cinema before. At least I haven't writes Anupama Chopra in The Hindustan Times. Clearly, the film's treatment of minority sexualities had a considerable impact in India – where gay sex was criminalized with a 2013 law now under review- as it skillfully managed to survive encounters with the film censor board almost fully intact.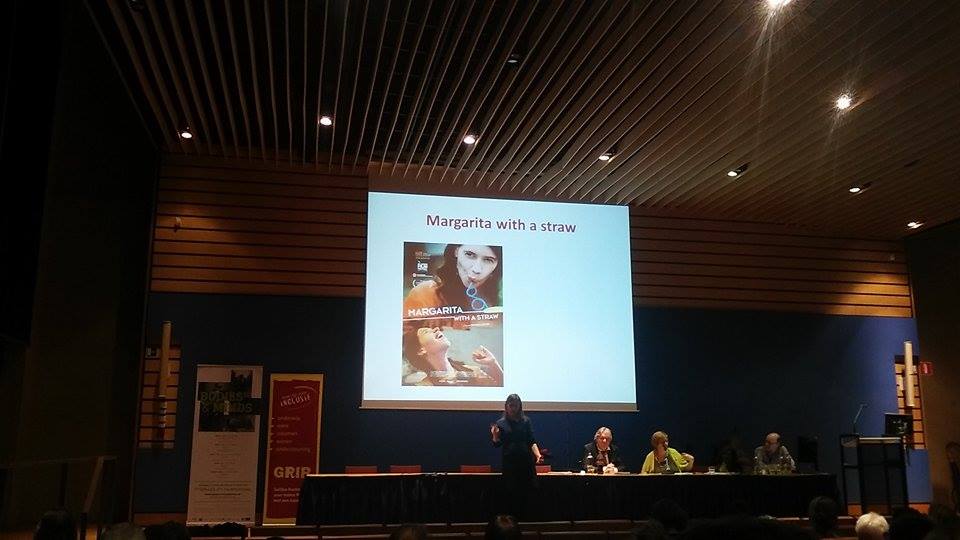 In the same review Chopra also promises potential viewers that the film is guaranteed to make you cry. Along with her, many other film reviewers heaped praise while repeating goodhearted but stereotypical phrases: the character of Laila (and to a smaller extent that of her visually impaired lover of Pakistani-Bangladeshi descent Khanum) is heart-warming, inspirational, has an unbreakable spirit, and a lust for life that puts most abled people to shame. A film reception that frames the experience of living with a disability in little imaginative terms seems hard to avoid, even when Margarita with a straw itself mostly manages to steer away from stale or stereotypical disability depictions. Although the film was not written or directed by people with disabilities, and – the director's initial good intentions to hire disabled actors notwithstanding- in the end did not include persons with disabilities in its main cast, it was very loosely based on the life of Indian disability activist Malini Chib, who is also writer-director Shonali Bose's niece.
Interestingly enough, the Leuven Disability Film Festival indeed seems to have found a way to almost organically steer the framing of its films towards a more imaginative direction, without being normative or closing the interpretative possibilities all together. Representatives of Grip VZW (http://www.gripvzw.be/) a Flemish disability association that focuses on equal rights for persons with disabilities are on site. Not just to introduce the organization and its work on disability representation, but also to elaborate on the choice of film, starting from their own lived experiences, grounding the film with their expertise and taking the film-going-experience to the level of a more direct and personal exchange of knowledge. When people with disabilities themselves are present and subtly set the tone for how to interpret what's going to be shown, it gets a tad more difficult the put away a tale of migratory experience, bisexual exploration and crip life as merely 'brave'. The tone setting introduction does not seem to be superfluous: 'What's going on? Do you get it? Why is she approaching that guy, isn't he like her helper or something? And now they are touching each other?'. The row behind me keeps on talking, friends elbowing each others sides, discussing what's going on onscreen in a voice that is not entirely hushed enough for the setting of an indoor film festival. Curiosity takes over from annoyance as I realize that they seem to be experiencing a very light case of cognitive dissonance, needing each other's help to understand fairly simple plot lines. Every time protagonist Laila ends up in a sexual situation they fail to see the erotic overtones of the scene. So, I suppress my initial reaction to ask my fellow audience members to keep it down and can't help but eavesdrop on their slight discomfort and attempts to make sense of the film they are watching.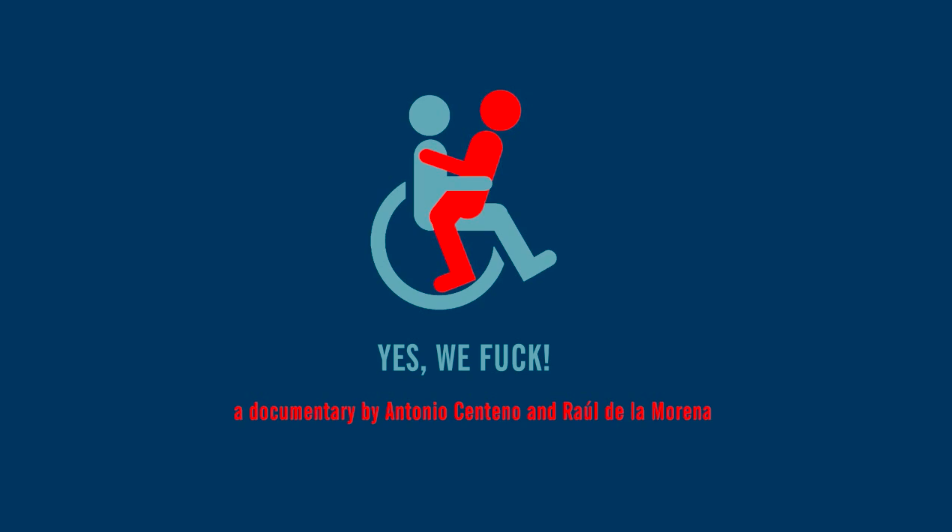 For me I just like to be who I am all the time – Laila's lover Khanum exclaims, when talking about her relationship with her parents. It's these sort of plain messages Margarita with a straw prefers to deal in. Not very subtle, nor very complex or unexpected for that matter. The film touches on and intersects a myriad of interesting themes but doesn't necessarily have something very interesting to say about all those themes. This lack of philosophical underpinnings sometimes evokes the feeling that the Margarita leans too heavily on just being carried by the minority idea – or in this case, by multiple minority ideas. As if merely talking about disability or bisexuality is merit enough. On the other hand, this simplicity might incidentally help the film to steer clear from disability portrayals that, as playwright Christopher Shinn has so beautifully put it: are more interested in disability as a metaphor than in disability as something that happens to real people. As far as that realism goes of course, for certain H/Bollywood trade-offs have been made. The main actors and actresses are breathtakingly beautiful people whose bodies engage in sex scenes in which initial awkwardness is instantly overcome by glossiness. As with LGB film festivals trying to reach out to the general audience, Margarita seems very much aware of the tightrope it has to walk as a mainstream film portraying minority sexualities: trying to keep a footing in the middle ground between identification and confrontation.
Oh, they want to sleep with each other! One of the girls behind me can't help but say out loud. Followed by an uncertainly murmured: right? She looks sideways at her friend, who hesitates for just a moment and then confirms with a newfound confidence: Right! They're both horny for each other. I swallow further critical remarks, for although making disability films and disability film festivals more inclusive and more thought-provoking is an ever evolving work in progress, for the time being both do seem to be having an undeniable effect on the rowdy row behind me.
Further reading and links blog